My cousin Cathie and her husband Adam were married 20 years ago. She recently decided to do something with her wedding dress besides store it in the attic. She got it down and gave it the once over to make sure it was in good shape, packed it in a box, and sent it to me. As we all know, brides want to pick their own dresses so she knew it would not be worn again. We discussed turning it into something that could be enjoyed on a regular basis. May be a nice pillow for her bed; something she could look at everyday and appreciate. Another option was a small purse that her daughter, granddaughter, who knows even great granddaughter might carry on her wrist down the aisle in their weddings. Here is the style up for consideration. It's a cute little drawstring number.
Found the pattern and instructions at
Bride's Purse for Jeanette
. I think I will make one out of scrap fabric I have here first just to make sure it works before I take my grandmother's Gingers to her dress.
I need to find some inspiration for a pillow next so when I get started I know I will have enough fabric. Have any of you seen anything that caught your eye and would look good made out of satin? Here are some I am looking at for inspiration.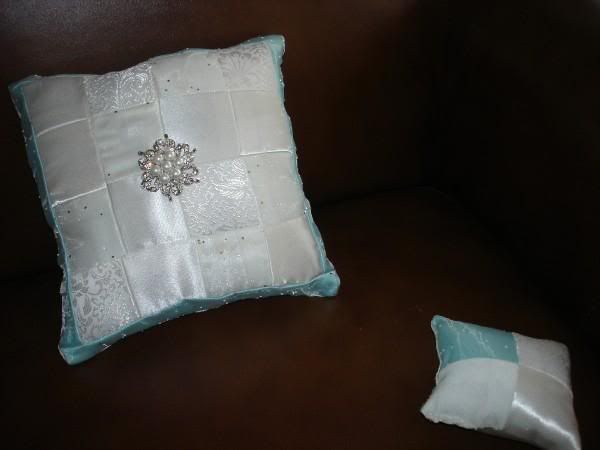 I love the patchwork on this pillow
So that is my next project. That and the screened in porch floor. I want to paint a
scrabble board
, remember? And I am 1/4 of the way through the binding of Crackers. It's going to be a busy fall.